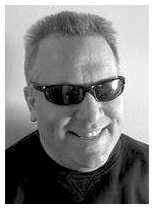 Name: Scotty, aka "Scotty"
Web Site: http://www.ztalkradio.com
Posts by Scotty:
January 17th, 2014

The Buzz

Imagine the Possibilities!!!!!

Monday Night 9-11p Eastern

with Kevin Thompson, Molly Spense and

Scotty Rorek


Call In Number 262-672-2488




The Buzz is committed to bringing you the best in interactive talk radio. Scotty and Molly will test your senses with innovative and entertaining radio programming. Honest, informative and inspirational and on occasion controversial with a bit of humor thrown into the mix.  The Buzz encourages listener participation with live chat and call in capabilities. What's the Buzz?  Become part of the fastest growing talk shows on the internet. Tune in and catch the Buzz, a healthy addiction.

Hosts

Scotty Rorek – Host

As Seen in Children Of The Grave 2

http://spookyscotty.com


Scotty encountered spirits when he was young child, however while attending college at the University of Wisconsin Oshkosh, he saw a full body apparition that changed his life. There he earned two degrees, a B.S. in Radio TV Film, and a B.S. in Speech with a Theatre Arts emphasis. Scotty has put his education to good use and gained his radio and TV experience at CBS WFRV-TV in Green Bay, Wisconsin. Scotty worked with Larry McCarren (Green Bay Packers) on The Packer Locker Room Show and the evening news. He then went off to pursue theatre and performed in over 30 stage shows. Scotty also performed improv comedy for over ten years, first with ComedySportz and then in his own Theatresports franchise. Scotty owns the talk radio station Ztalkradio.com. Z Talk Radio is bringing you the Internet's most innovative and entertaining radio programming. He has three shows on the Z Talk Radio, Between The Living and Dead, The Buzz heard on Monday nights, Pasture Bedtime on Tuesday nights

Scotty is a member of the Northern Alliance of Paranormal Investigators. Scotty has investigated throughout the Midwest and southern states, including the Willard Library, Sloss Furnace, and Bobby Mackey's Music World. With the understanding and continuing investigations Scotty has incorporated new and innovative techniques to help find the answers he seeks. He has mentored members of his team as well as visiting teams in investigative techniques and tools. Scotty has been called in to assist other groups with investigations and data review.

Through Scotty's abilities he is able to hear and speak to spirits and validating past and present experiences at a site. Through EVP and dowsing sessions he is able to capture recordings and acknowledgments simultaneously. Scotty unique ability of receiving messages, he has a way of comforting and helping one understand that their loved one watch over them. Scotty's purpose is to help prove that there is life after death and it isn't scary. To book Scotty for you event  or conference please contact Haunted Entertainment.